Megan owns a nail salon in Cape Town and for the last few years has relied on WhatsApp and phone calls to accept bookings from her clients. In her salon, the phone rings and no one answers. Megan is busy with clients and cannot always come to the phone. Hiring a receptionist is an expense she cannot afford and clients usually send her a WhatsApp message for their appointment if they can't get hold of her.
Megan finishes her last client for the day and goes home to her family. She checks her phone and sees that 10 clients have sent her WhatsApp messages requesting appointments. She sits down and starts replying. Going through each one and finding a time that suits both the client and her busy schedule.
Between seeing clients during the day, answering phone calls, replying to WhatsApp messages, actually operating her business, and spending time with her family, she has no time for herself. Imagine doing this every day of the week.
Megan's problem is not unique. Hiring a receptionist to manage your diary and take phone calls while you are busy with clients is expensive, so most therapists and technicians do what Megan does, and sacrifice their time to accept bookings manually. In her case, many clients know to WhatsApp her for an appointment when she is busy. But she will never know how many clients she has lost to missed phone calls.
How much time would you save if you no longer had to reply to WhatsApp messages during the day or after hours just to accept appointments. How much more productive could you be if your clients had the ability to book an appointment without calling you, without the risk of double bookings all while you maintain complete control of your diary and appointments?
Online bookings give your clients the ability to choose a service, find an available time and make a booking, all without having to pick up the phone. Imagine having a 'Book Now' button on your facebook page or email signature that automatically took your clients to a bookings page to make an appointment.
Here are 3 ways that online bookings can help Megan's and your business: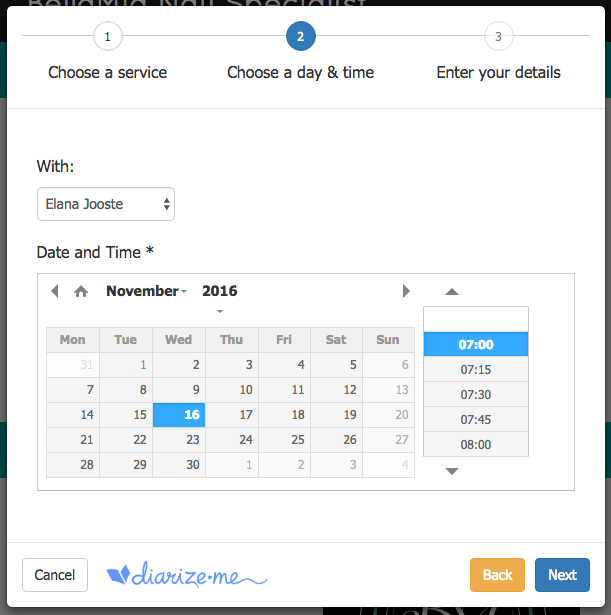 1. Open 24/7 to receive reservations
Many customers surf the Internet outside of business hours and they are more likely to make reservations on the spot than trying to remember to call back the next day.
Statistics show that more and more bookings are made during the evening online. The reasons for this are two-fold. Firstly, many companies now monitor and control Internet access in the workplace, and secondly, many homes today has an Internet connection and a PC or laptop.
An online booking system allows you to receive booking 24 hours a day.
2. It''s good customer service
When we speak about online bookings, we are not talking about a contact form. A contact form does not provide your customers with a clear view of your availability. A contact form does not allow your customers to book directly and get confirmed automatically.
A proper online booking system must, at the least be able to perform these two tasks as they are core to providing good customer service.
3. Minimize your workload
If you are not using an online booking system, then you are still processing all your bookings manually. A good online booking system will handle all the aspects of the booking. It must, at a minimum, do the following:
– Automatically ensure that bookings can only be received when you have availability
– Get ALL the information required during the booking process so you don't have to waste time asking for more information
– Send out an automated email to the booking party as a confirmation of the booking
– Automatically update your availability when the booking has been processed
Common concerns about Online Bookings:
1) Clients will be able to see my whole diary
While this is a valid concern, clients will never be able to see the inner workings of your diary. The online booking feature will only show clients your available time slots, which can be configured from your Diarize Me console.
2) Clients will edit and cancel their appointment at the last minute
We understand that sometimes a client is not able to make an appointment. However, we believe that moving and canceling appointments should be handled by you. This is why we do not allow clients to change or cancel their appointment after making it. We also allow you to include a cancellation policy which the client needs to agree to prior to making their booking.
3) How will I know when a client makes an online booking?
Whenever a client makes an online booking, their appointment will appear in your appointment calendar automatically, and you will be notified of the appointment. This gives you the ability to see the appointment and client information and confirm whether you are able to service the client.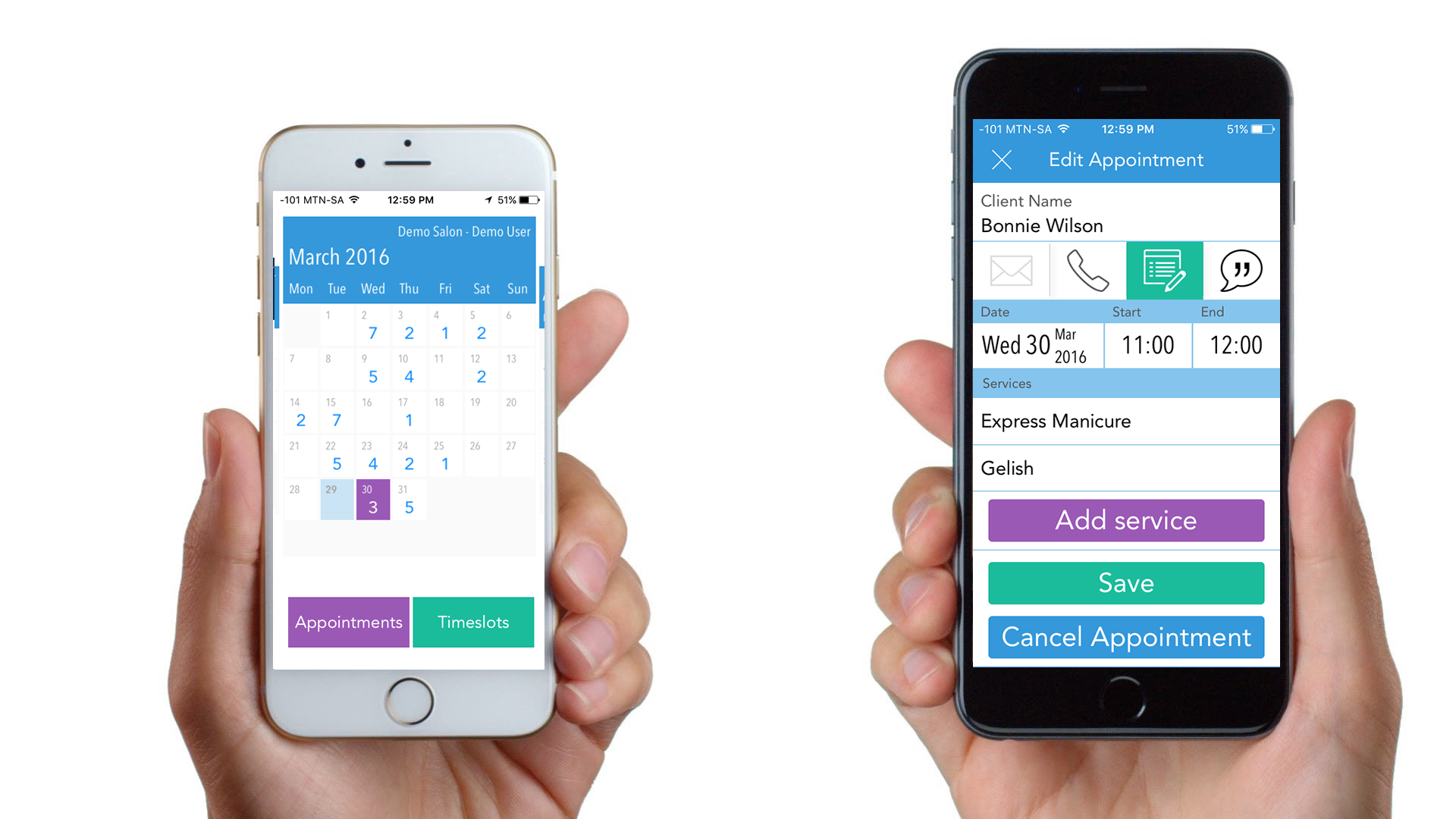 How do I get started with online bookings?
Starting to accept online bookings may seem like a daunting task, but there is really nothing to it. Assuming you are up and running, you could fall into one of the following 3 categories:
I have a website with my contact information and services.
I don't have a website, but do have a Facebook page where clients can view my business information.
I don't have a website or a Facebook page to promote my business.
1) I have a website with my contact information and services.
That's great! You have already started to accept the fact that clients search for salons and specialists online these days. Diarize Me offers you a 'Book Now' button that can be installed in a matter of minutes to any page on your website. The client will never even have to leave your website to make an online booking.
2) I don't have a website, but do have a Facebook page where clients can view my business information.
Facebook pages are a great way to connect with your clients and to promote your services! You can easily upload pictures and specials to your page to let your clients see your amazing work! Why not let them book straight from your Facebook page too? Facebook offers a 'call to action' feature for all of their pages which lets you create a 'Book Now' button directly on your Facebook page. The best part? This button can be linked to a web page that Diarize Me provides for FREE! We provide you with an online bookings page that contains your basic information, contact information, and an online bookings form. 🙂
More information on how to create a call to action button can be found here.
3) I don't have a website or a Facebook page to promote my business.
Worry not! We have you covered! Diarize Me provides you with a web page that you can use for online bookings. We include your logo, colour scheme, basic information, contact details, and most importantly…an online bookings form for your clients to easily make a booking. 🙂
Online Bookings are a standard feature with all Diarize Me packages. While customers have the ability to book online, you will forever remain in control of your schedule and diary.
To find out more about how Online Bookings can help you, contact us on 021 200 5889 or on sales@diarize.me.