Accepting card payments is quick, easy, and convenient for you and your clients! Accepting only cash can often result in late payments, and an inconvenience for your clients. You want to create a seamless experience for your customers from the moment they walk through your door. So why not give them the convenience of paying with their credit or debit card?
Until now, card swipe devices carry a heavy monthly rental fee and are often accompanied by a heavy processing percentage. You want to keep your costs down, but still give your clients the experience they deserve!
Meet ZipZap, the mobile card reader that works wherever you do.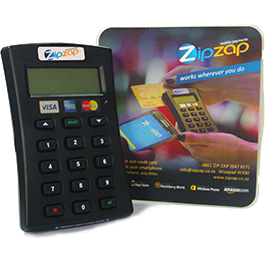 The ZipZap card reader uses the internet connection on your smartphone, tablet or computer to send transactions securely to the ZipZap payment gateway.
It connects via Bluetooth to your smartphone, so there is no need to ever hand over your smartphone. You simply hand the ZipZap card reader to the customer and they enter their PIN.
The ZipZap WisePad reader can be connected via USB to a windows computer or tablet and is available with a stand, should you wish to use the device in a fixed location.
Data captured on the card reader is encrypted using the latest payments technology and is not accessible from your smartphone or computer so even if it's stolen or compromised, your customer's card details are safe.
The best part…It integrates seamlessly with Diarize Me! Diarize Me and ZipZap have worked to bring our technologies together to provide you and your customers with a seamless experience. When capturing a payment from the Diarize Me console or smartphone App, ZipZap becomes available as a payment option.
Transaction details are sent automatically to the secure card reader and the transaction result is sent back to Diarize Me instantly. The client payment is captured, account closed and published in your cash-up reports all within a matter of seconds.